Engraver to the jewellery trade
Deep reverse crest seal engraving
Average 2 to 3 week turnaround
Signet rings manufactured from clients own bullion
Specialist in three main services
Accepting post now, back in workshop till this is updated
This will be updated periodically each time we are away
Seal style laser crest engraving enhanced by hand (

NOT INTO STONES

)
Standard service prices as below 2 to 3 weeks turnaround
Retail shops, workshops & manufacturers etc. (

TRADE CLIENTS

) may send in signet rings cufflinks and pendants for deep reverse crest engraving to their clients bespoke design's.
Single crest engraved into precious metals (not stones) £150.00 Banner & motto £50.00 extra. Additional identical crests engraved from same design at the same time ( batch engraving ) £100.00 OR £125.00 if including banner & motto
Matching pair (ie) cufflinks £250.00 , or £325.00 including banner
Clan badges including belt and buckles with motto £200.00, repeat engraving in same order £125.00
Coat Of Arms from £250.00 (ie) full design including mantling, shield, helmet and crest above helmet , repeat engravings engraved from same design at the same time ( batch engraving ) £150.00
Initials monograms logo's etc.
Deeply engraved using lasers enhanced by hand
This form of engraving is generally far deeper than either hand engraving or most machine engravings
Please specify the font you require when ordering or choose from a selection of popular fonts I will recommend to suit the initials. Single initial £20.00, 3 entwined £30.00
Alternatively . send in your own artwork and I will manually trace it to be replicated identically by the machine , then enhance to replicate hand engraving. £55.00
Relief engraving in one of three intertwining fonts available , or to replicate your own drawing. from £55.00
Signet rings manufactured by hand in 9ct or 18ct gold & Silver
9ct & 18ct gold Labour only service you supply bullion or used hallmarked jewellery (scrap)
Please supply adequate bullion in the form of DF casting grain, or old hallmarked jewellery to be recycled by casting
(only hallmarked if requested for additional fee)
£50.00 to make each ring by hand from supplied materials , I will return sinker and risers , but not filings.
Casting service ideally suited for making signet rings from sentimental gold , individually cast in sand , often without the need for joins as I have master patterns in 26 finger sizes in all my standard signets
Sterling silver 925 & 935 made from casting grain supplied by me ( not hallmarked )
I individually cast to order in required finger size using my own casting grain
11 x 9mm , 12 x 10mm , 13 x 11mm & 14 x 12mm £40.00 , 16 x 13mm , 17 x 14mm & 18 x 15mm £45.00
Assorted head size plastic samples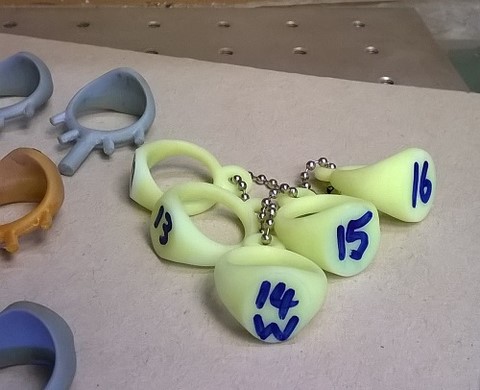 How to choose the correct head size
£50.00 to order a set of my plastic ring samples in assorted head sizes in my standard either oval or cushion shape court signet rings (rounded inside for comfort)
All my rings are heavyweight intended for crest engraving. Majority of patters are made in finger sizes from A to Z so rings are cast to size requiring no joins.
Appx weights in 9ct ,

11mm x 9mm and 12mm x 10mm

6 grams
Appx weights in 9ct

13mm x 11mm and 14mm x 12mm

9 to 11 grams
Appx weights in 9ct

16mm x 13mm

13 grams or

18mm x 15mm

18 grams
One man band no longer registered for VAT
By providing a labour only service I am able to reduce my annual turnover below the VAT threshold
As client has provided their own materials I am not legally obligated to provide a hallmark
I am able therefore in these difficult times to manufacture and engrave a signet ring and return to the jewellery trade in on average 2 weeks
Hallmarking as an optional extra at additional charge & adds appx 3 weeks.
Please note mail order only service

You will not be able to visit workshop
PO BOX 782, Rickmansworth WD3 0NL
Phone landline 0208 0909340
Phone Mobile 0754 1387405
Watts App for artwork only 0754 1387405
Email for further details
Or Telephone 0754 1387405 (quicker)
Post to Handmade By Me, PO BOX 782, Rickmansworth, WD3 0NL
Please provide mobile phone number for a text to confirm replied (spam related)